Structural Design / Branding / Packaging
Brewing Up a Fresh Look
Since its initial Kickstarter campaign in 2013, Fellow has been dedicated to providing a coffee brewer that is both functional and stylish. Today, Fellow boasts a wide range of coffee and tea brewing products, including French presses, pour-over cones, kettles, and grinders to help people brew the perfect cup of coffee at home.
Fellow approached us to create a new packaging system that is confident, smart, and flexible to accommodate their rapid growth rate both domestically and internationally.
We refreshed their entire packaging system with sustainable structures and materials for a look that is both ownable and responsible.
The Key is Sustainability
Our approach to sustainability was comprehensive and thorough. We selected recyclable kraft materials, sustainable inks, and eliminated both outside coatings and inside plastic wrappers so that each product is packaged in fully recyclable paper pulp boxes. The result is not only a functional, eco-conscious box but a magnetic sensory experience of beautifully textured kraft paper that promises a similarly compelling product within.
Getting the Box into Shape
The shape of the box was another perfect opportunity to inject personality and style into the packaging. We embraced the bow tie in the brand mark to create an ownable unboxing experience of carefully folded flaps that mimic the charm of a bow tie. We worked with industrial designers to realize the final shape and ensure each fold and flap was both functional and stylish.
To quickly and easily communicate all of the detailed information for each product, we created stickers for the back of each box. Playful illustrations and fun messages conveniently explain the functionality of each product, whether it's a simple or complex gadget.
Iconic silhouettes sit alongside dynamic arrows to emphasize Fellow's fun, energetic philosophy and inspire customers to join in.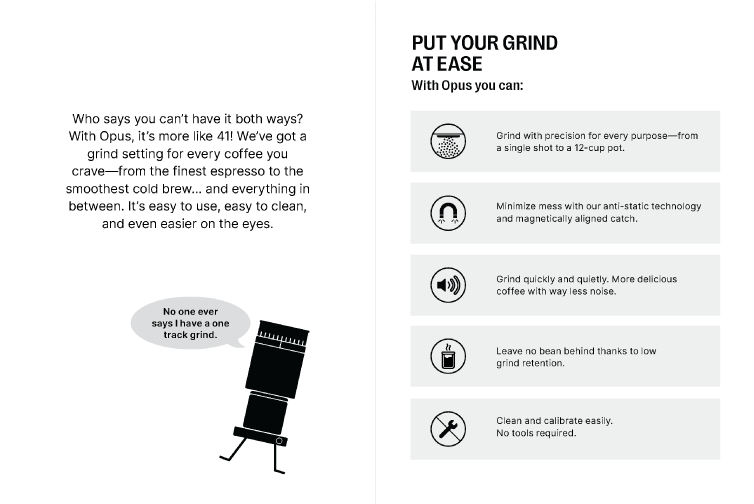 A Playful Guiding Spirit
User guides are above all informative, but we took the opportunity to add some playful personality as well. We developed easy-to-follow guides with playful messaging, simple illustrations, and a helpful animated character to usher new users through the products' features. The result is a bold and stylish guide that breaks down complex instructions into easily understandable steps. This user experience is fun, exciting, and encourages the customer to discover everything their new product can do.

Good Things Come in Bold Packages
Our approach to shopability was a playful and bold look and feel. We created a flexible, visually striking packaging system that stands out on shelves with sleek, energetic product silhouettes and patterns. The packaging's stylish simplicity invites customers to pick it up, take it home, and possibly even keep the beautiful box.
From pour-over to cold brew.